Season 3 was announced on February 9, 2016 by Nickelodeon.[1] Production began on April 26, 2016 and wrapped on February 10, 2017.
It premiered on January 7, 2017 with Quad With a Blog and ended on August 5, 2017 with The Wonderful Wizard of Quads.
Plot
In this season, the Harper Quads face a new set of quadruplets, the adorable Kramden Quads. Unlike the Harpers who have nothing in common, the Kramdens have everything in common, look alike and work in harmony. The Harper Quads also undergo major growths this season with graduation from Edgewood School and Dawn and Dicky going through puberty. The quads also make new friends including Miles, Dooley and Avery.
On several occasions this season, the quads are forced to face reality about their reputation that they are selfish and have the tendency to ruin things they're involved with.
Cast
Main Cast
Recurring Cast
Special Guest Cast
Alex Shibutani as Himself
Maia Shibutani as Herself
Breanna Yde as Simone
Audrey Whitby as Tori
Noah Urrea as Dylan
Buddy Handleson as Wally
Jade Pettyjohn as Rose Durkin/Dorothy
Gabby Douglas as Twisty
Dana Snyder as Dr. Colosso
Tia Mowry as Erica Knightly/Witch
Episodes
Trivia
This season had previews of episodes from September 2016 to November 2016 that later premiered in January 2017.
The theme song completely revamped this season.
The executive producer and creator, Matt Fleckenstein, left the show before production begun for this season leaving Michael Feldman in charge of the show.
Kyla Drew Simmons, who portrays Mae Valentine, was promoted to a main character. Although, she is absent in the episode, YOCO.
Mace Coronel's haircut changes to medium-length and his voice got deeper due to him going through puberty between Season 2 and Season 3 production.
This season was originally ordered for 14 episodes on February 9, 2016, by Nickelodeon, but during production later got expanded by ten episodes, making the season consist of twenty four episodes.
Production for this season was from April 26, 2016 to February 10, 2017.
A new café from Get Sporty is introduced in the episode, Quad With a Blog, after in the episode the old café burned down accidentally by Tom.
The episode The Great Mullet Caper was the 50th episode produced, of the series.
This season ended exactly one year after Season 2.
This season only aired for eight months; as the scheduling from Season 2 pushed back the Season 3 premiere.
New recurring characters were introduced this season. They included, Miles, Dooley, Avery, June, Kramden Quads, and Franco.
There were many special guest stars this season. There were many sports players and Nickelodeon stars. There were three School of Rock stars including, Breanna Yde, Ricardo Hurtado and Jade Pettyjohn, whom appeared in the episodes, To Be Invited or Not to Be, Not-So-Sweet Charity and The Wonderful Wizard of Quads, respectively. There were also two The Thundermans stars, which were, Audrey Whitby and Dana Snyder, whom appeared in One Quadzy Summer and The Wonderful Wizard of Quads, respectively. They had a couple of singers, Noah Urrea and Gabby Douglas. They had a pair of Ice Skaters, Maia and Alex Shibutani. Finally, they had and actor, Tia Mowry , and the former Bella and the Bulldogs star, Buddy Handleson.
Videos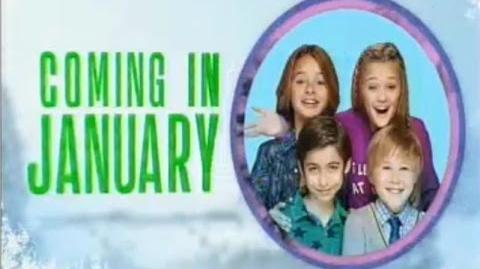 References